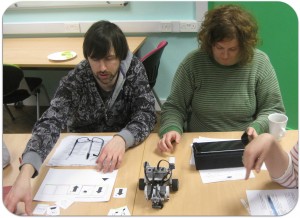 We offer a range of CPD for schools, based in our training room at Red Tape Central, in Sheffield city centre. See a map of the location here. Below you can see our Primary and SEN CPD offer for schools.
Schools that buy into our service have a number of free places on courses. For non-subscribing schools, it will cost £150 per person per day, or £80 for a half day or twilight.
To book, fill in the form here.
---
Developing Computational Thinking Across Lower KS2: 1.15-4.00pm on Tuesday 5th December 
Outcomes:
– Understand what computational thinking is and how it supports programming and general problem solving skills
– Be able to deliver a number of practical activities to practise algorithms and other computational thinking concepts
– Understand how to consolidate skills through programming in Scratch, Logo and devices such as Code Bug
Who is this course for?
Lower KS2 teachers plus Upper KS2 teachers whose pupils haven't done any previous computational thinking or programming
 Please note: this course does not teach you how to program in any of the above software – you will need some prior experience of using the program 'Scratch'. We are putting on training for this on the 5th October (see above) if required. Please contact us if this is a problem and we will try and arrange an extra session to help you in this area.
---
Online Safety for NQTs: 1.15-4.00pm on Wednesday 13th December 
Outcomes:
– Understand how young people in Sheffield use the internet
– Understand the safeguarding implications of their online lives for our most vulnerable young people
– Understand the need  to protect yourself online as a professional who works with children and young people
– Know how Online Safety is covered in both the Computing and P.S.H.E. curricula in Sheffield and where to find resources
Who is this course for?
NQTs and RQTs
---
Developing Computational Thinking across Upper KS2: 1.15-4.00pm on Thursday 14th December at Learn Sheffield – CANCELLED
We will reschedule for next year
---
Programming with Code Bug in KS2: 1.15-4.00pm on Monday 15th January 
Outcomes:
– Understand the key computational thinking and programming concepts required in KS2, and how these can be introduced through Code Bug
– Hands on time with Code Bug to learn the programming language and add ons such as the Colour Star
– Access to example projects and resources, plus how to link with wider curriculum themes
Who is this course for?
KS2 teachers
---
Programming with iPad in KS1 and Lower KS2: 1.15-4.00pm on Tuesday 30th January 
Outcomes:
– Understand the key computational thinking and programming concepts required in KS1 and lower KS2, and how these can be introduced through iPad apps, such as Bee-Bot, Scratch Jnr and Hopscotch
– Hands on time with the apps
– Access to example projects and resources, plus how to link with wider curriculum themes
Who is this course for?
KS1 and lower KS2 teachers
---
Understanding Data in the Computing Curriculum: 1.15-4.00pm on Friday 9th February 
Outcomes:
– Understand the importance of learning about data – how we present data digitally, and how we share our data online
– Recognise the links with Online Safety in terms of personal data
– Familiarisation with the data strand 3 in the Sheffield Scheme of Work
– Access to example projects and resources, plus how to link with maths, science and wider curriculum themes
Who is this course for?
Computing Co-ordinator, Maths Co-ordinator
---
Supporting Literacy using iPad:  1.15-4.00pm on Thursday 1st March 
Outcomes:
– Hands on time with a number of content creation apps to support writing, reading, listening and speaking
– Hands on time with specific literacy apps to support phonics, spelling and grammar
– Understanding how to save work and share resources with pupils
Who is this course for?
Computing co-ordinators, Literacy co-ordinators, all teachers using iPads
---
Flowol in Upper KS2: 1.15-4.00pm on Monday 5th March 
Outcomes:
– Understand the key computational thinking and programming concepts required in KS2 and how to teach these through Flowol
– Hands on time with the software to recreate the Y5 projects in the Sheffield scheme of work
– Understanding of how to use flowcharts to plan out programs
Who is this course for?
Upper KS2 teachers who have taught little or no Flowol previously
---
Computing in FS2: 1.15-4.00pm on Monday 12th March 
Outcomes:
– Understand how to introduce computing concepts and skills in Foundation Stage 2 to support key skills, literacy and numeracy and the Wider World Early Learning goal.
– Hands on time with iPad apps, hardware and software
– Know where to find resources to support computing in FS2
Who is this course for?
EYFS teachers and TAs
---
Using SketchUp to Support Maths in Upper KS2: 1.15-4.00pm on Wednesday 14th March 
Outcomes:
– Understand how 3D modelling in SketchUp can be used to revise key maths concepts in upper KS2
– Hands on time with the software to create data visualisations and infographics
– Ideas for example projects and where to find resources, plus how to link with literacy, science and wider curriculum themes
Who is this course for?
Upper KS2 teachers; Maths co-ordinator
---
In addition we are co-ordinating the Learn Sheffield Computing Co-ordinator Network Meetings this year. These are free for all Computing co-ordinators:
Computing Co-ordinator Network Meetings – 4.00-6.00pm
Tuesday 28th November  – St. Wilfrid's School
Tuesday 20th March – Malin Bridge School
Tuesday 26th June – Wybourn School
Updates on latest news in Computing, including assessment, new technology, conferences etc.
Practical workshops
Opportunity to network with other co-ordinators
We will send round reminders about these meetings nearer the time, with an Eventbrite booking system – please book on so that we know numbers for activities and resources
PREVIOUS COURSES
Primary Computing Scheme of Work Overview: 4.30pm – 6.00pm on Thursday 28th Sept or Monday 9th Oct at Red Tape Studios
Outcomes:
– Understanding of the background behind the computing curriculum and national developments in the subject
– Knowledge of the content of the Sheffield Scheme of Work and how this reflects the National Curriculum programs of study
– Understanding of the key messages in each strand
– Practical examples of how to teach computational thinking
– Understanding of how to adapt the scheme to introduce newer elements gradually
– Knowledge of how to assess computing
Who is this course for?
– Free for schools which have bought the scheme of work, or have a package of support with the eLearning Service
– Computing co-ordinators
---
Scratch Basics: NEW DATE – 4.15-600pm on Wednesday 8th November at Red Tape Studios
Outcomes:
– Understanding of how to access online version of Scratch and advantages of downloading software
– Understanding of how Scratch can be used in KS2 to deliver programming element of the curriculum
– Practical examples of how to introduce Scratch to pupils in accessible ways
– Ability to create simple activities in Scratch and teach the y3 and 4 units of the Sheffield scheme of work
Who is this course for?
Teachers/ HLTAs in KS2 who have never taught Scratch before, or only at a very basic level
---
Scratch Intermediate: 1.15-4.00pm on Monday 20th November at Learn Sheffield – CANCELLED
Outcomes:
– Understanding of how to remix existing projects from the Scratch website
– Understanding of how to deliver key computational thinking and programming concepts through Scratch
– Understanding of the progression of skills in Scratch
– Examples of cross-curricular projects to use in school
– Ability to use variables, selection, repetition and procedures in Scratch to develop pupils' learning
– Understanding of how to teach y5 and 6 Scratch units from the Sheffield scheme of work
Who is this course for?
Teachers/ HLTAs in KS2 with basic Scratch knowledge (e.g. using loops; using events, motion, sound and looks commands; saving activities)
---
Computing for NQTs: 1.15-4.00pm on Monday 9th October at Red Tape Studios
Outcomes:
– Understand the background to the computing curriculum and key concepts
– Familiarisation with the Sheffield Computing scheme of work
– Know where to find resources to support the curriculum and recommended hardware and software
– Understand progression across the digital literacy, information technology and computer science, plus experience of practical activities in each area
– Practical examples of how to teach computing through English and Maths, together with wider curriculum subjects
– Basic computing skills for surviving the first term
Who is this course for?
NQTs and RQTs
---
Developing Computational Thinking Across KS1: 1.15-4.00pm on Tuesday 17th October at Red Tape Studios
Outcomes:
– Understand what computational thinking is and how it supports programming and general problem solving skills
– Be able to deliver a number of practical activities to introduce algorithms and other computational thinking concepts
– Understand how to consolidate skills through simple programming with Bee-Bot and Logo
Who is this course for?
KS1 teachers
---
Computing Coordinators Day: 9.30am-3.30pm on Monday 23rd October at Red Tape Studios
Outcomes:
– Understand the role of the Co-ordinator
– Understand the background to the computing curriculum and key content
– Familiarisation with the Sheffield Computing scheme of work and its links with Online Safety
– Know where to find resources to support the curriculum and recommended hardware and software
– Understand progression across the digital literacy, information technology and computer science, plus experience of practical activities in each area
– Knowledge of ways to teach computing through English and Maths, together with wider curriculum subjects
– Understanding of ways to assess computing
Who is this course for?
New Computing Lead teachers/co-ordinators or those who have not attended this course in the last 3 years